By Ms. Hommit | Posted : 28/Mar/2008 02:48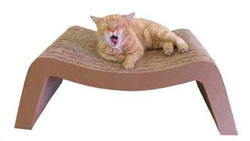 If you love and respect your cat, you might want to give him or her a personal seat.
Prrrounge
available at Kittypod.com (design by Elizabeth Paige Smith) is an elegant addition to any living room. In fact, the product is dual-purpose: can be used by humans as well. In which case the personal kitty seat may not be as personal anymore.
Dimensions: 35"l x 17.5"w x 12.5" h
Available at: www.kittypod.com